"It's the best thing I've ever bought [for revising topics]. It is saving me and my staff so much time, we love it."
Sean Donohue, Head Teacher, Nepean CAPA
Overview: See how it works!
"Not only has SmarterMaths saved hours of my life, but the statistical analysis on every topic and the marker's comments are features we rarely find elsewhere ... truly effective!"
Sylvia Park, Science/Mathematics Teacher, Girraween High School
"Incredibly easy to use. Incredibly useful."
Tim Dalton, Head Teacher of Mathematics, Marrickville High
Custom VCE Worksheet Features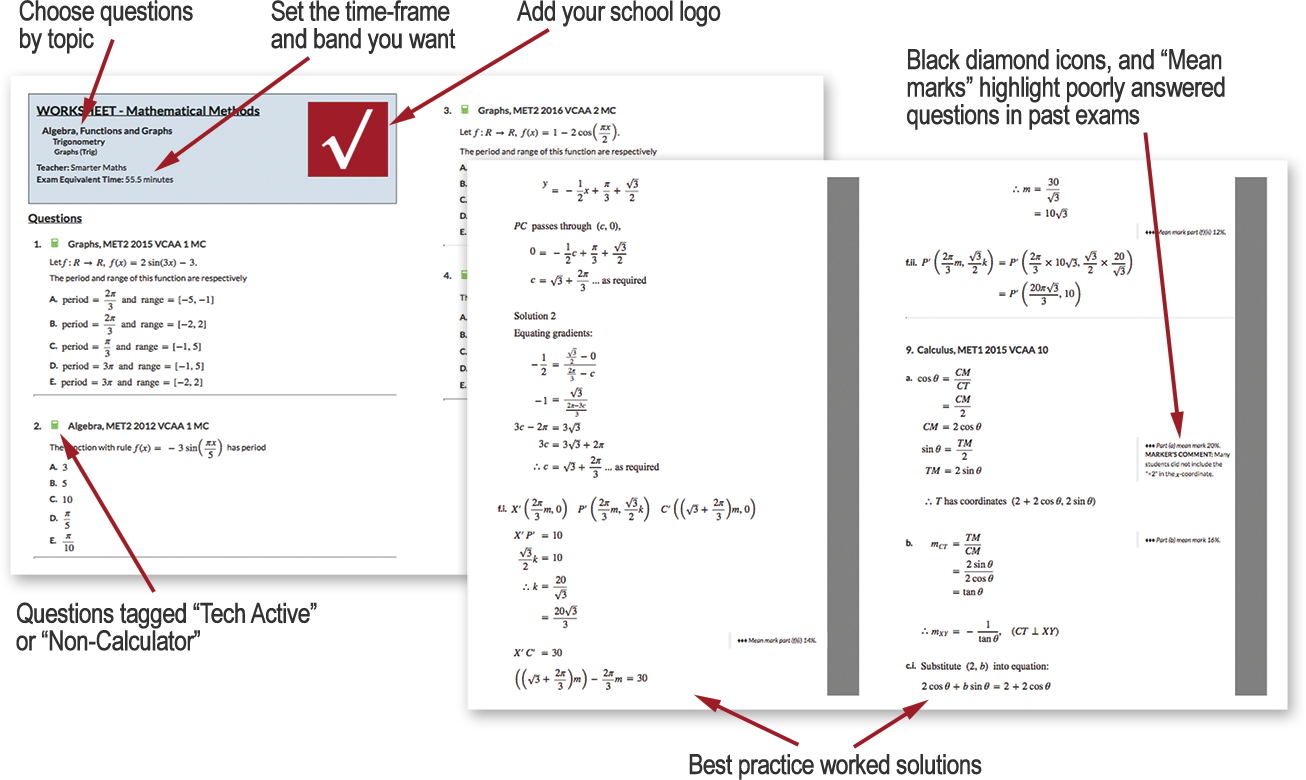 "SmarterMaths does exactly what it says ... it saves me time and the worksheets are quality."
Alison Underwood, Senior Maths Teacher, Danebank Anglican School for Girls
Pricing
(Valid for 12 months from purchase date & includes annual paper updates)
Trial
Free!
Partial access to past HSC papers
Access some supplementary questions
Access some targeted worksheets
SmarterMaths branded
Selected full worked solutions
Selected marker's comments & mean marks
Further, Methods, & Specialist Maths
$310 each course
+GST per year
11 years past VCE Further Maths papers
Unlimited usage for all faculty
Access all supplementary questions
Past school results analysis included
Branded for your school
Full worked solutions
Marker's comments & mean marks
Access ALL targeted worksheets (for massive efficiency gains)
Further Mathematics includes Core, Geometry, Graphs & Relations, Matrices, and Networks
"Student demand for the worksheets has quickly turned SmarterMaths into an essential part of our senior maths program."
Carolyn Nolan, Head Teacher of Mathematics, Lambton High
Everything you need to create customized worksheets in seconds
"The students find the questions much better and more relevant than anything textbooks can offer, in terms of revising topics."
Adrian Kruse, Head Teacher, Macarthur Anglican School
"It's really quick, and excellent value for money."
Sue West, Director of Senior School, Snowy Mountains Grammar
"SmarterMaths is the quickest way to ensure your students gain the essential skills they need to succeed."
Ahmed Ibrahim, Head of Mathematics, Emmaus Catholic College